Last Updated on 5th Jan 2021
More info >>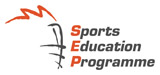 More info >>
Sports Massage Therapy
BMI Calculator
Your Height (in cm):

Your Weight (in kg):

< 18.5 = Underweight
18.5 - 24.9 = Normal
25 - 29.9 = Overweight
> 30 = Obesity
Osteoporosis Self-Assessment Tool
Your Age (min 45):

Your Weight (in kg):

---
Tai Chi Kettlebell
How did you come up with the idea for Tai Chi kettlebells?
Tai Chi has always been known to have beneficial health effects for people who practice them regularly. There have also been various researches that show Tai Chi is able to improve people with special condition such as Osteoporosis, Diabetes, and Arthritis. A recent trial published in the New England Journal of Medicine in August shows that Tai Chi has therapeutic benefits for sufferers of fibromyalgia.
On the other hand, Kettlebells can offer an extremely effective workout. Other than improving your strength and cardiovascular fitness, you'll also enhance on your balance and overall flexibility. Since kettlebell training is so efficient, you will be able to obtain better results while spending less time in the gym.
Thus, together with a group of experienced Tai Chi coaches and IKFF certified Kettlebell trainers, we combine the best of both exercise into a workout routine where participants will be able to reap the benefits from a holistic mind and body workout within a shorter duration.
Currently, we are promoting the Tai Chi kettlebell course to all the various Community Centers under the People's Association in an effort to reach out to younger participants and executives to engage in an active lifestyle and making new friends. Most people simply have more fun when exercising with a buddy where they enjoy a friendly visit while working up a good sweat.
Could you describe what a typical class will involve?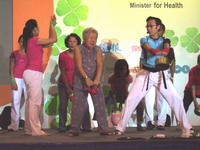 Classes will involve basic Tai Chi warm up exercise to prepare participants for the more vigorous kettlebell workout. In between sets of kettlebell movements, participants will use Tai Chi for recovery before moving on to the next kettlebell movement. In this way, participants will be able to reap the benefits of both workouts (Tai Chi and kettlebell).
The movements in both the Tai Chi and Kettlebell have been carefully choreographed so that they would complement one another. At the end of the workout sessions, there will be a Tai Chi cooling down exercise to bring participants back to their resting heart rate where they would feel rejuvenated after the workout.
What are the benefits of doing Tai Chi kettlebells? How many calories can you burn an hour?
Both Tai Chi and kettlbell are functional exercises which complement one another (soft & hard), hence it will be beneficial to the participants when done correctly and helps to correct one's posture which will prevent a lot of common musculoskeletal problems often seen in desk bound individual and those who lead a sedentary lifestyle. Hence our classes put a lot of emphasis on how to correctly deliver the correct technique with the correct posture alignment. We always believe that practice does not make perfect, only correct practice does.
It is a great workout altogether because as it brings cardio, strength training, core stability, flexibility, endurance together in one quick exercise, Instead of just lifting weights for a half hour and doing the treadmill for another half hour, you can have everything done with Tai Chi kettlebell in 30 minutes. Plus, you will also get the mind relaxation from Tai Chi exercise which greatly helps to relieve stress.
A recent study done by the ACE (American Council of Exercise) reveals that during the 20-minute kettlebell workout, the average calorie burn was 272 calories.
Thus, for individual who might not have a lot of time, and need to get in a good workout as quickly as possible, Tai Chi kettlebells definitely provide as a good alternative workout regime.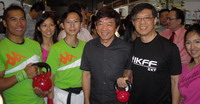 Is it suitable for all levels of fitness? What kind of person is Tai Chi kettlebells best for?
Tai Chi kettlebell is suitable for people with all fitness levels where each individual can choose the weight that they are most comfortable (2kg – 32kg) working with and may progressively increase the load as they get more advanced. The class is ideal for individual who want to tone up their muscles rather than bulking up and to achieve a good combination of cardio and resistance training with a mind and body component.
The Tai Chi kettlebell has different levels of classes (amateur, intermediate, advanced, multi-level) for individuals to choose from. With the modified kettlebell design that comes in the form of 2kg and 4kg, it is also smaller which makes it less intimidating than the pro-grade design so that more women and senior citizens will be willing to give it a try.
So far, we have conducted Tai Chi kettlebell classes for schools and also in gyms and spas where we have received very positive feedbacks from the participants.
For professional guidance in your exercise program, Engage any of our certified Coach from NewAge and we will teach you the proper execution techniques and customizes different exercise program based on your goals. Before initiating any fitness program, it is always advisable to seek medical clearance and ask for advice and to address any questions or concerns. All the exercises presented on this website are meant for suggestion only and should not be substituted for any form of medical diagnosis or treatment. Participants are at your own risk and should always seek to listen to your own body and stop if you feel giddyness or experience shortness of breath.
Tai Chi Kettlebell Classes
Lam Soon CC
Every Thursday, 8pm - 9pm
Tel:6769 1598
For class enquiry,
Email: admin@newagetaichi.com