Last Updated on 5th Jan 2021
More info >>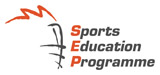 More info >>
Sports Massage Therapy
BMI Calculator
Your Height (in cm):

Your Weight (in kg):

< 18.5 = Underweight
18.5 - 24.9 = Normal
25 - 29.9 = Overweight
> 30 = Obesity
Osteoporosis Self-Assessment Tool
Your Age (min 45):

Your Weight (in kg):

---
Coaching Programmes
As we age, our metabolism rate tends to go lower which makes it easier to put on weight, and our modern sedentary lifestyle encourages further weight gain. Resistance training which aims to build up more muscles becomes important, because keeping all other things being equal, the stronger you are, the more power and force your muscles will be able to produce, and the less likely they are to fatigue, and the greater your resistance to injury.
More muscles also increase the body metabolism rates which helps to burn fat faster. Besides regular exercise, the body also needs quality sleep for the body to rest and rejuvenate.
NewAgeTaichi has numerous fitness coaching programmes that encompass complete holistic health & fitness solutions. We strive to help our customers achieve a better quality of life through Tai Chi / Wushu / Kickbox / Muay Thai by planning out customised training programs that are specially catered to meet their individual needs and goals.
Personal Coaching
How can I benefit from 1-on-1 classes?
Imagine having a fully qualified and experienced Tai Chi professional dedicated to getting you into shape and ensuring that you will enjoy your exercise!
One-on-one sessions are the best way to start a Tai Chi / Wushu / Kickbox / Muay Thai program. They are also recommended for those who have very specific fitness objectives & prefer private sessions with the Coach. A unique program encompassing flexibility, strength, power & endurance training will be developed to meet your individual needs. Our private sessions are designed to provide high quality personal Tai Chi / Wushu / kickbox / Muay Thai classes.
At NewAge, our coaches have all undergone appropriate training to understand the principles of human anatomy, exercise physiology, biomechanics, nutrition and exercise. With our years of coaching experience and systematic way of delivering our instructions, all our sessions are being delivered in a fun, dynamic and interactive way to help you achive your personal exercise goals.
Most importantly, we go beyond planning an exercise training program and providing expert knowledge. We give emotional support by motivating you, provide step by step guidance and sound advise to maximize your exercise workout to help you achieve your full potential in an engaging and safe environment.
What can I expect from private classes?
In a private session,
You get 100% attention and guidance from our highly certified professional coaches
We will monitor your advancement and customise the lesson according to your progress
We will travel to your preferred learning location (home, gym, club, office, parks). You thus save time from travelling to and from class
The lesson day/time is flexible according to your schedule, where you need not compromise your learning in order to meet a fixed schedule
It's not just an ordinary exercise workout, it's a customised experience just for you!
Is private classes suitable for all fitness level?
Having 100% attention to you is important to you to ensure that you perform the exercises and movement correctly, which is something you will not be able to get this from a book / video or a general class.
Performing the exercises and movement correctly is the key component to success and maintaining a lifelong fitness regime, otherwise you would have wasted your time and effort.
In NewAge, we cater to each individual based on their fitness level, from first time exerciser with low fitness level to professional athletes.
How long is 1 session and how often should I have one?
Our coaches can help to advise a training program schedule which best suits your lifestyle needs, that will help enhance your quality of life.
Is private classes expensive?
NewAge has several training program and package options available to suit various needs. Eventually, it is up to you to decide on the program which is most suitable for your own fitness goals.
However, if you have a preference for group lessons or you have a tight budget and that you do not mind taking your time to learn, then you may want to consider our general group classes.
Clients' Testimonial
Read what our existing clients got to say about their learning experience with us - Read more
"Practice does not make perfect, only Correct Practice Does"
Duet Coaching
Duet class are ideal for people of similar fitness levels & who prefer to train with a partner. Like the individual class, a customized training program will be tailored according to the needs of the couple.
Why do some people give up exercise?
There are several factors as to why people who used to exercise give up after a while trying to follow an exercise training regime. These factors often include injuries/illness, lack of time and lack of motivation. Thus, having a fitness buddy mitigates or removes some of these factors that make people lose their motivation to continue exercise. What is more fun than to have a buddy who exercise, get healthy & fit together in the most enjoyable way!
Hang out with active people
A recent study done by the University of Georgia shows that people tend to mimic the behavior of those which they usually hang out with. The study also shows that individual experienced a greater level of self-control when mixed with others with strong self-control. Vice versa, the opposite was also true where individuals showed poor self-control when others around them did. The influence of role modeling was so significant that even when individual simply thought about someone with strong or poor self-control, their behavior will tend to follow suit.
Researchers concluded that good or bad self control is contagious. The bottom line is that if you're serious about engaging in an active, healthy lifestyle, then you should foster friendships with like-minded people and choose a workout partner who shows a strong commitment to achieving the same personal fitness goals as you.
Small Group Classes
Small Group Classes available at Singapore Botanic Garden
Small group classes are a good way to kick start your Tai Chi learning with us if you are not sure whether you would prefer a private class. Getting your friends and family into joining Tai Chi may be just what you need to take your training to the next level.
Working out with a friend is nothing new but it's a tried and proven way to help you stay on track of your training schedule. Knowing that someone is expecting you to turn up for a Tai Chi or Wushu class keeps you accountable and that itself may be sufficient to get you out of the house. Most people simply have more fun when exercising with a buddy where they enjoy a friendly visit while working up a good sweat.
Our group classes are kept small (4~6 pax) so that each students will gain optimal attention from our coaches.
Classes will commence with a minimal number of 4 participants and the pace of learning is much dependent on the overall group learning pace. Thus, participants will be able to learn based on their own learning capacitiy and still enjoy Tai Chi as a relax yet effective workout.
The small group Tai Chi class is one of the most enjoyable and effective ways to get fit and healthy where you will get to meet peers sharing the same goals & objectives as you!
Most sports injuries are preventable. You have to condition your body to meet the demands of your chosen sport and give it time to adapt to the rigours of training.
"Get yourself Fit to play, instead of playing to get Fit"
Corporate Classes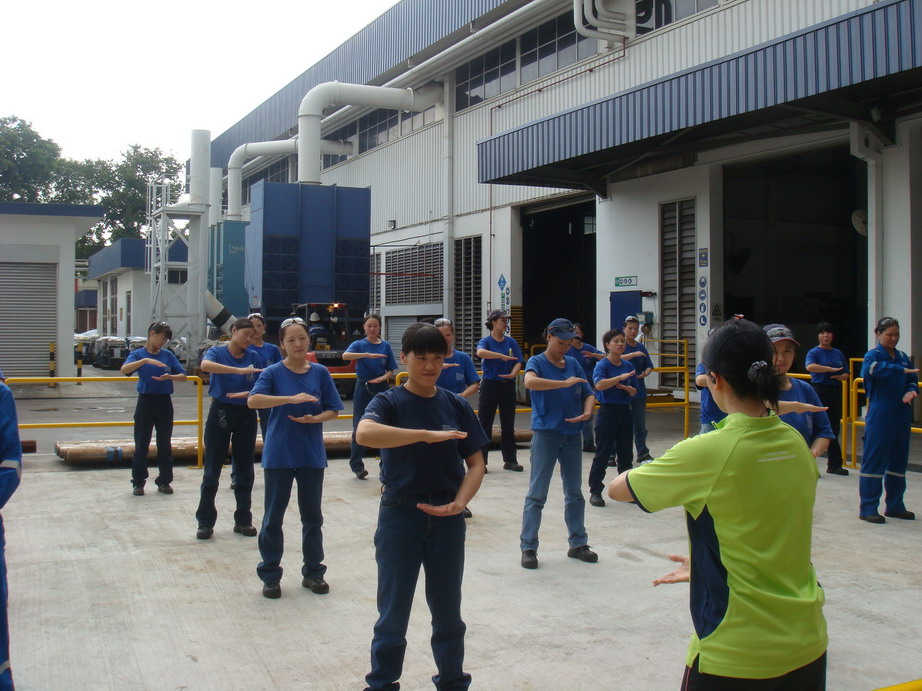 Maintaining an active lifestyle will helps you to enhance years of quality lifestyle as you age. An aging population worries many industrialised countries including Singapore.
Corporate Health and Wellness Programs are essential to the long-term viability of all businesses. Good Corporate Health and Wellness Programs have been proven to reduce health care costs, absenteeism and presenteeism thus resulting in improved productivity. Research has also shown that Corporate Health and Wellness Programs offer a positive Return-on-Investment, thus making them a benefit that costs more to avoid than to provide.
We offer the following Corporate Health and Wellness Programs
Tai Chi Fitness Classes
Wushu Keep Fit Program
kettlebell Cardio Training
Cardio Kickboxing
Body Combat Classes
Muay Thai Classes
Corporate Team Building
Health Education Talk and Seminar
Corporate Fitness Workout
Custom Health Risk or Personal Health Assessments
Our corporate fitness program will help your corporation to achieve high levels of employee health and increased productivity. We can also arrange for special group training programs for your organization. This is highly tailored according to your needs, budget, location, equipment and schedule.
The whole corporate fitness program will encourage continuous active participation in regular exercise and educate them about the importance of regular exercise and its health benefits.
Our Corporate Clients
Dowell SchIumberger Int Inc(Spore)
Four Seasons Hotel
French Association
IRAS Active Day Tai Chi Clinic
Lions Club of Singapore East
Mindef (HQ)
Overseas Family School
PALO Singapore Pte Ltd
The Pinnacle Lifestyle Management Pte Ltd
Singapore Police Force
Times Publishing Ltd
Civil Service Club – Bukit Batok Clubhouse
Civil Service Club – Tessensohn Clubhouse
Chua Chu Kang CC
Lam Soon CC
Wushu / Tai Chi Kids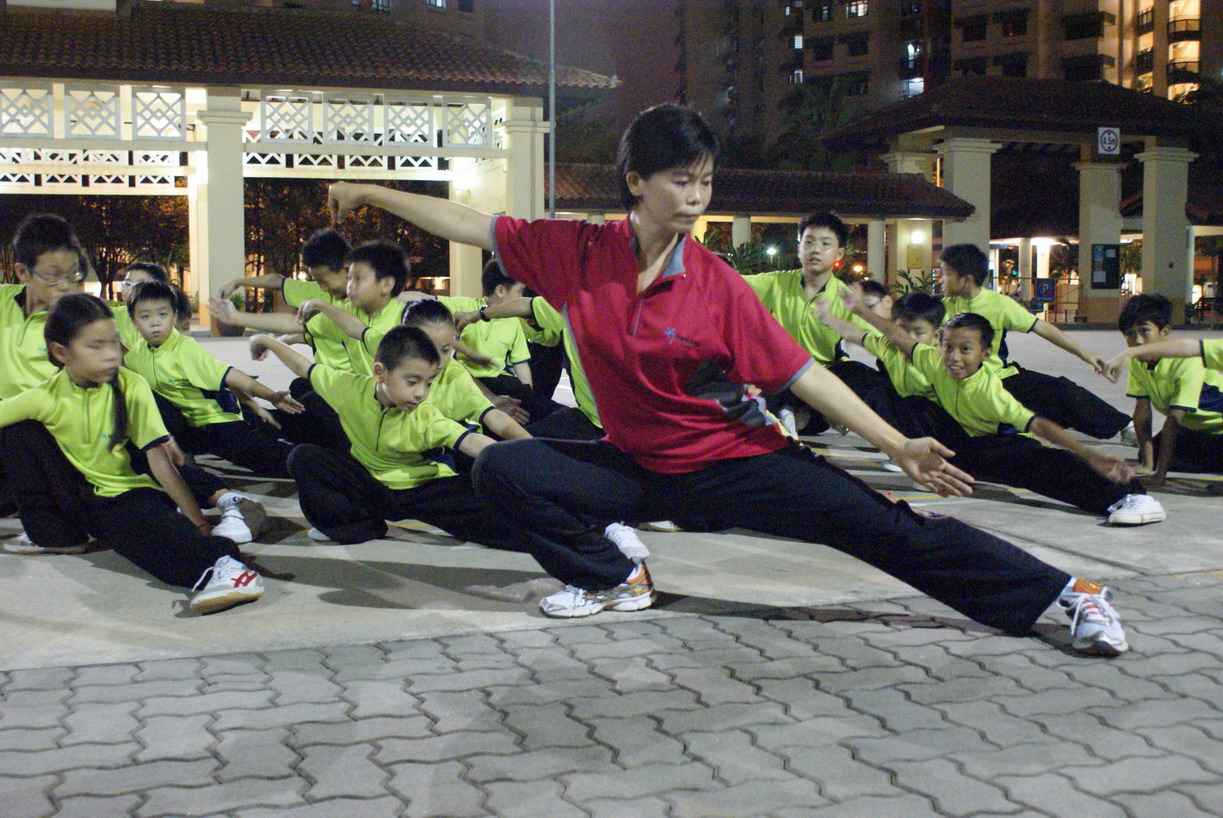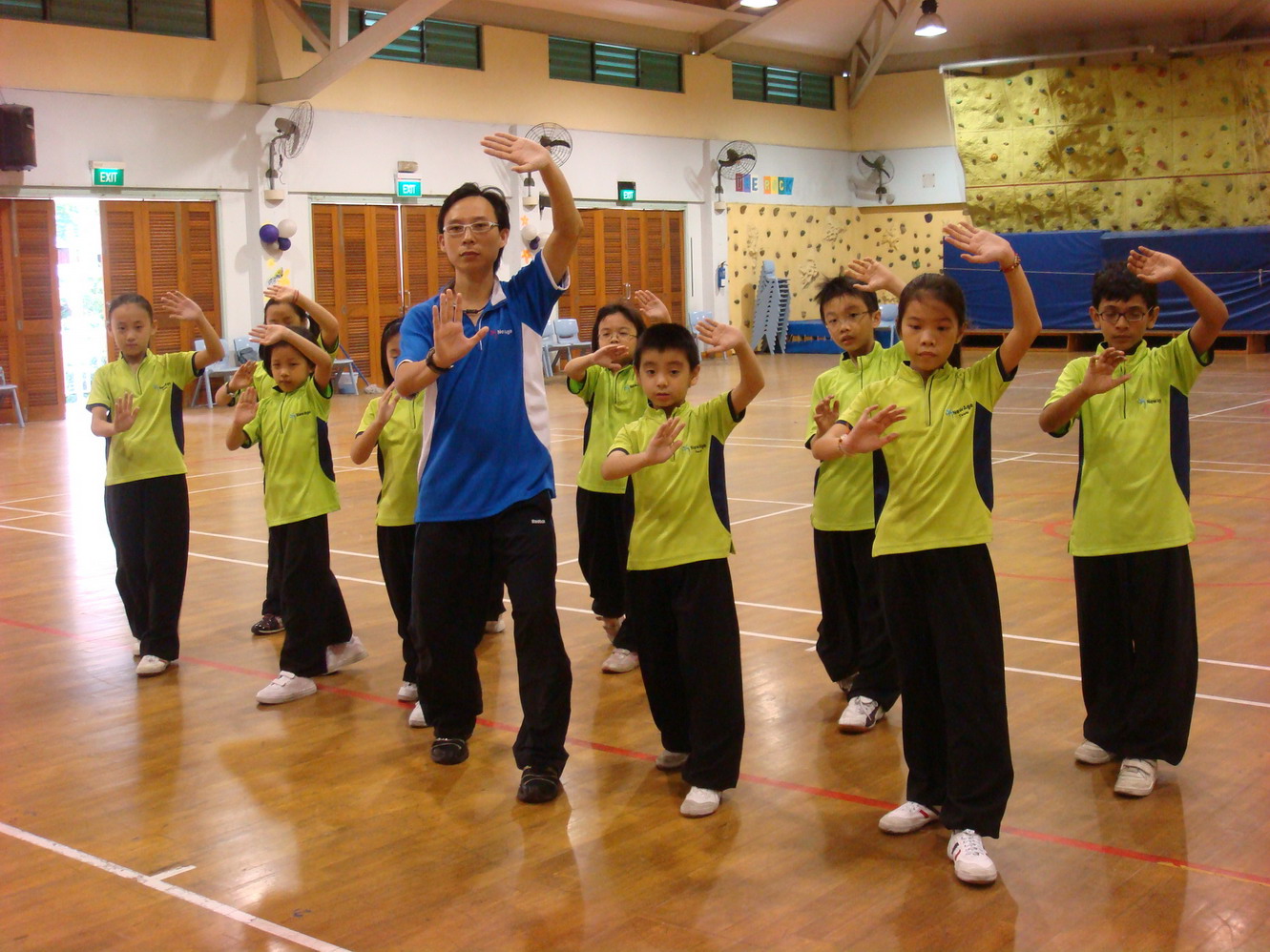 Classes are kept small (5 ~ 10) to ensure personalized attention on each student. Kids are usually grouped together according to suit their learning pace based on their growth developmental age (6 years~9 years), (10 years ~ 12 years).
Wushu Kids program focuses on developing strong bodies, sharp minds, and strong moral foundations in children. The class aims to develop motor skills and mental focus while teaching martial arts in a socially interactive environment.
The whole entire course will emphasize on discipline, integrity, perseverance, self-confidence, and teamwork through a fun & interactive environment. Children not only develop improved motor skills and mental focus, they are also trained in skills which significantly benefit them in other important areas of their life such as school and home.
Muay Thai / Kickboxing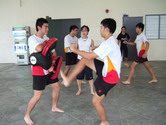 Muay Thai is one of the most physical demanding sports around with a fitness training component that can bring out the best in anyone, regardless of their age or stamina.
In Muay Thai, it is a graceful blend of punches, elbows, knees, and kicks, where you uses the body as weapon. It relies on simple moves and efficient movement to generate maximum power.
Pad work training is ideal for anyone who is interested in using techniques from fitness training component of kickboxing to improve their all-round fitness level.
The whole entire course will emphasize on focus, discipline, integrity, perseverance, self-confidence and bringing the best in you.
"Fear not the 10,000 moves practiced once. Fear the single move practiced 10,000 times"
Customised Program
In NewAgeTaichi Pte Ltd, we provide customisation of training program for those customers who want to train on their own through a proper planned training program.

Our coaches are all experienced professionals with in-depth knowledge on Tai Chi & personal fitness. Our coaches will plan the training program based on the customer's needs and goal. Customers will be taken through the various stages of the training program in a systematic approach.

Our coaches will perform a weekly meet up with the customers to monitor closely the customers progress to ensure that they achieve their personal goals at the end of the training regiment.
Training Venues
Our training venues for private classes are flexible & can be arranged to locations of your own preference. Some of private training locations include the following:
Choa Chu Kang Park
Yew Tee Park
For coaching enquiry,
Email: admin@newagetaichi.com