Last Updated on 5th Jan 2021
More info >>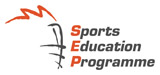 More info >>
Sports Massage Therapy
BMI Calculator
Your Height (in cm):

Your Weight (in kg):

< 18.5 = Underweight
18.5 - 24.9 = Normal
25 - 29.9 = Overweight
> 30 = Obesity
Osteoporosis Self-Assessment Tool
Your Age (min 45):

Your Weight (in kg):

---
The Sports Education Programme (SEP) is a collaborative partnership between Singapore Sports Council (SSC) and the Ministry of Education (MOE). The SEP aims to advocate the importance of sports education, encourage sports participation in schools and increase sporting opportunities for the young. It also serves as an integrated and structured approach to link sports service providers with schools to ensure that innovative and quality sports programmes are delivered.
Newagetaichi is very proud to have many of our programs endorsed under the Sports Education Program for 2010/2011 and they include the following:
In addition, Newagetaichi has conducted SEP courses at the following schools:
Sports programmes are assessed by a panel comprising representatives from the SSC, MOE, schools, sports educators and practitioners to qualify for endorsement under the SEP.
Programmes approved by the panel must fall under one or more of the following categories:
Sports Exposure
These would involve one-off events aimed at introducing a sport or a sporting lifestyle to the masses and should convey the message that sport is fun and that it is easy to do. Sports Exposure event/programme(s) can be in the form of sports clinics, tryouts, events or carnivals within the school.
Sports Play
These are structured, regular instructional courses that facilitate the learning of a sports skill at the beginner level. Students will have learnt basic information and skills about the sport after attending such programmes which will enable them to participate in the sport and enjoy it at a recreational level.
Sports Development
These are structured, regular instructional courses that facilitate the learning of a sports skill at a more advanced level. These programmes should follow on from Sports Play programmes, providing higher-level and age-appropriate skills that are still presented in a fun and engaging way. As an end-result, students will have learnt higher skills and gained more knowledge needed to play the sport after attending these programme(s).
Sports Leagues
These Leagues comprise intra-school competitions (e.g., inter-class competitions) that take place over a prolonged period of time, where participating teams have the opportunity to play each other (e.g., weekly or twice a week etc) in the chosen sporting activity.
Primary Schools
Teck Ghee Primary
Teck Whye Primary
White Sands Primary
Secondary Schools
Admiralty Secondary
Pasir Ris Secondary
Queenstown Secondary
Junior Colleges