Last Updated on 5th Jan 2021
More info >>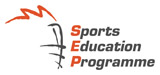 More info >>
Sports Massage Therapy
BMI Calculator
Your Height (in cm):

Your Weight (in kg):

< 18.5 = Underweight
18.5 - 24.9 = Normal
25 - 29.9 = Overweight
> 30 = Obesity
Osteoporosis Self-Assessment Tool
Your Age (min 45):

Your Weight (in kg):

---
Hong Wen School
Letter of Accomplishment
This is to certify Coach Yip See Kit of NewAgeTaichi Pte Ltd had provided Taichi Sports Play service with Hong Wen School for the SSC SEP Pilot Program from 24th July '06 to 16th Nov '06
Coach Yip was able to bring out the fun in Taichi. The students enjoyed the games that were ingeniously infused into learning of Taichi. He was in inspiring coach and the students absolutely adored him. The students looked forward to seeing him every session. It had been great fun learning Taichi from him
Mdm Lee Bee Har
HOD/PE/CCA
December 2006
A total of 32 participants from the Health & Fitness club (Pri 3 & 5) took part in the Taichi Sports Play course.
The whole course duration lasts for 8 sessions of 2 hours each. During these 8 sessions of Taichi Sports Play, the particpants were exposed to various fundamental movement skills necessary for their growth & development stage.
Proper technique on running, jumping, landing, where the focus of basic anatomical posture refinement and alignment were taught through fun games and team play.
Basic Taichi routine was taught through rhythmic and fun play on the application of these fundamental skills that allows participants to mastery of these fundamental skills so as to be active for life.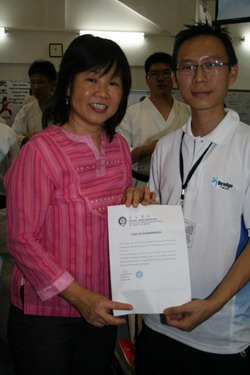 Mdm Lee & Coach Yip at SEP Showcase '07
"It is very good for beginners & the Coaches are very friendly & patient. I want to learn more advance Taichi" - Brian (Pri 3)
"The main reason I keep coming for Taichi lesson is that I want to be healthy & fit. Coach make us feel 'Taichi'" - Qing Wen (Pri 3)