Last Updated on 5th Jan 2021
More info >>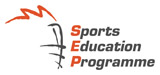 More info >>
Sports Massage Therapy
BMI Calculator
Your Height (in cm):

Your Weight (in kg):

< 18.5 = Underweight
18.5 - 24.9 = Normal
25 - 29.9 = Overweight
> 30 = Obesity
Osteoporosis Self-Assessment Tool
Your Age (min 45):

Your Weight (in kg):

---
18-style Taichi Routine
Singapore Keep Fit Taichi
As part of its continuing effort to promote Taichi for everyone in the Sports For Life campaign, Singapore Sports Council had invited Mr Wang Lan, a renowned Taichi Master from China to design a new form of Taichi Quan to specially design an 18 -style Taichi Routine, suitable for all ages.
The 18-style Taichi Routine focuses on building the fundamental of stability for Taichi beginners. Every movement is designed in a way so as to allow beginners to get a feel of the body stability before proceeding to the next movement. Stability is one of the main requirements in Taichi and to do Taichi well, the fundamental in stability needs to be very strong.
This 18-Style Taichi Routine was later named as the Singapore Keep-Fit Taichi (SKT), which was later labeled as Singapore's very own Taichi.
In order to further promote this Singapre Keep-Fit Taichi to all Singaporeans, Taichi coaches from all over Singapore were invited to learn from Master Wang Lan on this Taichi Routine and upon completion, went back to promote this Taichi routine.
A 1000 Mass Taichi Display was organized and held at Choa Chu Kang Sports Complex in 2001. This is also the 1st time such a grand display ever took place in Singapore. The guest of honor was our former Prime Minister Mr Goh Cheok Tong.
Today, this 18-style Singapore Keep-Fit Taichi has become one of the fundamental Taichi routine for beginners. After building a strong foundation of this Taichi Routine, taichi practitioners will then proceed to learning the higher level Taichi Routines for intermediate.
Movement Names
起式 – Qi Shi
白鹤亮翅 – Bai He Liang Chi
搂膝拗步 (三) – Lou Xi Ao Bu
手挥琵琶 – Shou Hui Pi Pa
野马分鬃 (三) – Ye Ma Fen Zong
揽雀尾 – Lan Que Wei
如封似闭 - Ru Feng Si Bi
单鞭 - Dan Bian
云手 – Yun Shou
海底针 – Hai Di Zhen
闪通背 – Shan Tong Bei
肘底捶 – Zhou Di Chui
倒倦肱 (三) – Dao Juan Gong
白鹤亮翅 – Bai He Liang Chi
左右穿梭 – Zuo You Chuang Suo
搬拦捶 – Ban Lan Chui
如封似闭 – Ru Feng Si Bi
收势 – Shou Shi