Last Updated on 5th Jan 2021
More info >>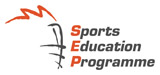 More info >>
Sports Massage Therapy
BMI Calculator
Your Height (in cm):

Your Weight (in kg):

< 18.5 = Underweight
18.5 - 24.9 = Normal
25 - 29.9 = Overweight
> 30 = Obesity
Osteoporosis Self-Assessment Tool
Your Age (min 45):

Your Weight (in kg):

---
Coaching Programmes
Muay Thai / Kickboxing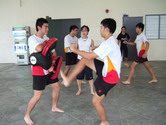 Muay Thai is one of the most physical demanding sports around with a fitness training component that can bring out the best in anyone, regardless of their age or stamina.
In Muay Thai, it is a graceful blend of punches, elbows, knees, and kicks, where you uses the body as weapon. It relies on simple moves and efficient movement to generate maximum power.
Pad work training is ideal for anyone who is interested in using techniques from fitness training component of kickboxing to improve their all-round fitness level.
The whole entire course will emphasize on focus, discipline, integrity, perseverance, self-confidence and bringing the best in you.
"Fear not the 10,000 moves practiced once. Fear the single move practiced 10,000 times"