Last Updated on 5th Jan 2021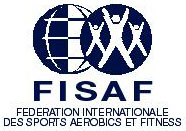 More info >>
More info >>
Sports Massage Therapy
BMI Calculator
Your Height (in cm):

Your Weight (in kg):

< 18.5 = Underweight
18.5 - 24.9 = Normal
25 - 29.9 = Overweight
> 30 = Obesity
Osteoporosis Self-Assessment Tool
Your Age (min 45):

Your Weight (in kg):

---

Home |Mind & Body | Strength and Cardio |Group Class Schedule
Frequently Ask Questions
EVOLUTION FITNESS
TRX SUSPENSION GROUP EXERCISE
What is Suspension Training?
The TRX training movements are distinguished from traditional exercises, in that, the users hands or feets are generally supported by a single anchor point whilst the opposite end is in contact with the ground. The TRX's single point attachment provides the ideal mix of support and mobility to train strength, endurance, coordination, flexibility, power and core stability, all at once, across a wider range of resistance.
The Benefits of Suspension Training
All levels, all places, all goals
You can instantly adapt resistance by adjusting your body position, suspension training is safe and effective for all people of all fitness levels. the TRX's compact and lightweight design enables you to set it up and use it anywhere, including parks, gyms, homes or in a hotel room whilst travelling.
All Core, all the time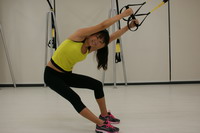 The body uses muscle strength to control its center of gravity during movement. Suspension training techniques are designed to intentionally displace your center of gravity, which activates the core during every exercises. Suspension training develops core strength using functional movements and dynamic positions rather than only lying supine on the floor. In addition to offering a range of intense movements targeting the abdominals specifically, significant core strengthening is integrated into each back, shoulder, chest, hip and leg exercise as well. That is why we say that training on the TRX is all core, all the time
Training in 3 Dimensions for Better Performance
A significant constraint of traditional resistance training is that machines and even free weights occassionally limit the planes of motion possible during exercise. Suspension training accomodates limitless variation in movement angle and planes of motion for virtually all exercises. The TRX enables all movements to be programmed along any pland or all planes at once. As in Sports and daily activities, we move in multi planes of motions at once. With the TRX, functional training principles can be integrated into programme design to achieve specific functional objectives.
Guidlines while using the TRX
Posture - engage your core and maintain a neutral spine with your hips, shoulders and ears in alignment.
Keeping straps tight - remember to keep an even amount of pressure throughout the entire movement of each exercise.
No Sawing - avoid sawing the main straps of the TRX as this will cause premature wear and tear of the TRX.
No Rubbing - don't allow the TRX straps to rub against arms during exercise. Move hands higher to prevent rubbing.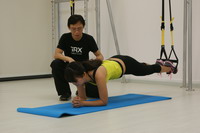 How to Adjust Exercise Intensity?
Exercises on the TRX allow exercise progressions to include changes in resistance, reduction of stability or a combination of both which we refer to as intensity. Once the basic movement is mastered you can increase intensity level by increasing body angle, narrowing the base of support or by moving starting position away from neutral point.
Vector Resistance Principle
The steeper your body angle the greater the resistance for the exercise
Pendulum Principle
The TRX naturally hangs straight down in the neutral position beneath its anchor point. You can assist or resist by changing the starting position relative to the neutral position.
Stability Principle
As the base of support decreases, stability decreases as well.
6 Positions Relative to the TRX
Stand facing towards the anchor point
Stand facing away from the anchor point
Stand sideways to the anchor point
Prone
Supine
Lying sideways
Sunday Morning: 10.30am - 11.30am (STARTED, On-Going)
Course Fee: $140 for every 8 weeks (NO MAKE UP), class will start with minimum 8 Pax
Walk In: $25
All Group Classes are Conducted at Evolution Fitness
1 Choa Chu Kang Grove, ITE College West, Blk 1,
#02-07 (S)688 236
Tel:9731 6687 / 9138 4451
For Group Class enquiry,
Email: enquiry@evolutionfitness.asia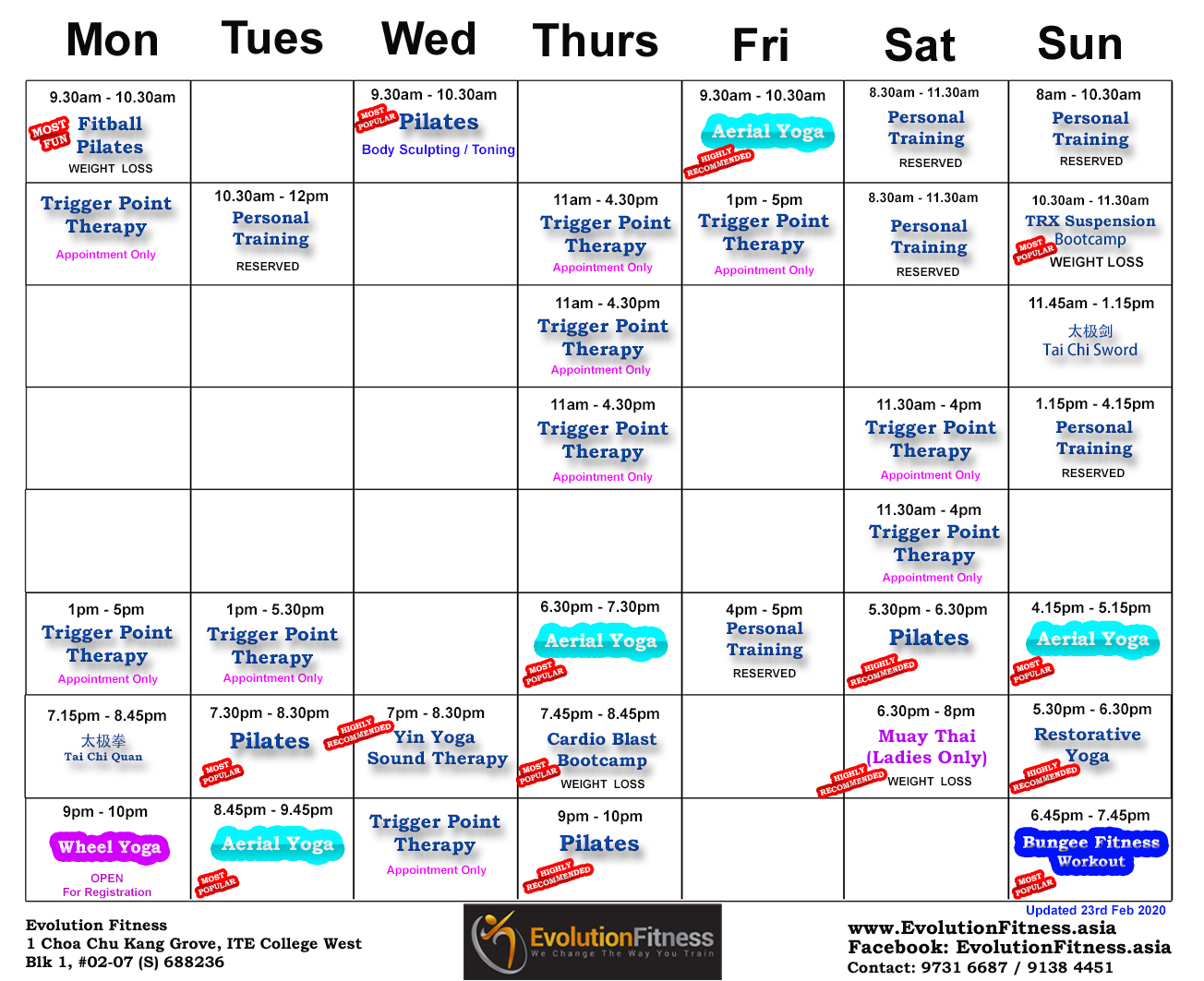 Full Group Class Schedule