Last Updated on 5th Jan 2021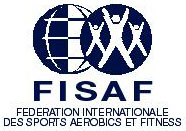 More info >>
More info >>
Sports Massage Therapy
BMI Calculator
Your Height (in cm):

Your Weight (in kg):

< 18.5 = Underweight
18.5 - 24.9 = Normal
25 - 29.9 = Overweight
> 30 = Obesity
Osteoporosis Self-Assessment Tool
Your Age (min 45):

Your Weight (in kg):

---

Home |Mind & Body | Strength and Cardio |Group Class Schedule
Frequently Ask Questions
Evolution Fitness FAQ
1. What kind of environment is the training conducted in?
We always believe in being happy in doing what we do, especially in doing exercise. In that way, you will reap the most benefits out of it. The studio is in an ideal location equipped with different training equipment and full length mirrors making it a conducive environment for learning.
2. I have not been exercising for a long time, can I still join the classes?
Basically exercise is suitable for almost anyone, from young toddler to senior citizens. Whether one is healthy or with certain medical conditions such as arthritis, osteoporosis, diabetes, high blood pressure, high cholesterol, over at our studio, we have various group classes ranging from Mind & Body (Tai Chi, Yoga Pilates) to Functional Strength & Cardio classes (TRX, Kettlebell, Muay Thai, Cardio Blast, Tabata, H.I.I.T Boot Camp) to Dance Fitness (KpopX Fitness, Bokwa & Zumba Fitness) where there will surely be one that's suitable for you to kick start your exercise regime.
However, we would recommend that for anyone who has not been exercising and above the age of 35 to go for a medical checkup and seek doctor advice if he/she is suitable for physical activities.
3. How long is each session?
Most of our group classes are conducted in 60mins per session, except for Muay Thai which is 90mins per session.
4. What attire/equipment do I need to commence training?
Basically you can come in loose, comfortable clothing, covered shoes with proper cushioning, bring your own water and a small bag for your personal belongings.
A large towel is also required for classes such as Pilates, TRX, Kettlebell, Cardio Blast and Chi Fitness for laying on top of the mat for personal hygiene purpose.
For Pilates & Aerial Yoga classes, participants are required to purchase the toe sock from us at $25 upon signing up. The toe sock offers a firm grip on the floor and also assist in better control of the footwork.
For Pilates, Yoga & Aerial Yoga classes, participants are strongly advised to wear thights and shirts thats are fitting so that you will not be restricted when doing certain movements which required the legs to be lifted up light or spread apart.
For Muay Thai, participants are required to purchase the hand wraps upon signing up at $20. Public Gloves are available for sharing during training and those who wish to get their personal gloves can also purchase from our studio.
5. Where is your studio located?
Our studio is located inside ITE College West, where the nearest MRT is Chua Chu Kang and the nearest LRT is Teck Whye Station.
The nearest MRT is Chua Chu Kang, and from this station, you will need to transfer to the LRT and stop at Teck Whye LRT Station.
Once you are inside the College, you will see 7-Eleven on your left. Walk along the corridor towards the running track. You will walk pass the toilet followed by the SPA. We are just next to the SPA. Free parking facilities are available.
If you are taking bus, you may stop either opposite SCDF Bukit Batok Fire Station and cross the overhead bring. Take the stairs down to level 2 and we are just next to it, #02-07.
Bus: 67, 160, 180, 187, 188, 985
6. For classes that are pending, how many participants needed to start?
We will need a minimum of 6pax for the group class to start, except for Zumba, KpopX Fitness where we will require a minimum of 12 pax.
7. Can I indicate my interest in the class and pay only the class starts?
We will only count those that have registered already made payment. Only when we have reach the minimum sign up number then the class will start. We will need your commitment as well so we can confirm the numbers.
8. What happens if I have made payment and the class cannot start?
In the event that the class cannot start due to insufficient sign up, we will either let you choose to attend another class of similar nature that has already started or give you a refund back.
9. Can I pay by Nets or Visa?
We only accept CASH PAYMENT only. There is a POSB ATM machine in the ground floor just next to foodcourt.
10. Can I come and attend any trial class first?
Yes, please email or SMS to us and indicate when you would like to come down for a trial class. For trial / walk-in class, it's $25, CASH ONLY for all group classes which will be offset if you sign up for the actual class on the same day. For Aerial Yoga, walk in session will be $40.
Please note that for 1st time participants attending any of our group classes, we will require you come a day or two before to do a 1 time registration which will take around 15mins, where we will also do a PAR-Q to understand if you are suffering from any injuries or under medical conditions. This is important so we can advise if the group class is suitable for you or you should be considering another type of class that will helps you reach your objective.
We will also be taking a photo of you for our record purpose.
Email: enquiry@evolutionfitness.asia
Contact: 9731 6687 / 9138 4451
11. Is there any make up classes if I missed the lesson?
NO MAKE UP classes are allowed, thus we strongly encourage participants not to miss too many classes. After all, one of the main objectives to attend Group Classes is to be consistent so that you will achieve your desired results.
12. How much is the course fee?
Our class is $140 for every 8 sessions (based on the specific day/class you signed up for. For Aerial Yoga, it will be $280 for 8 sessions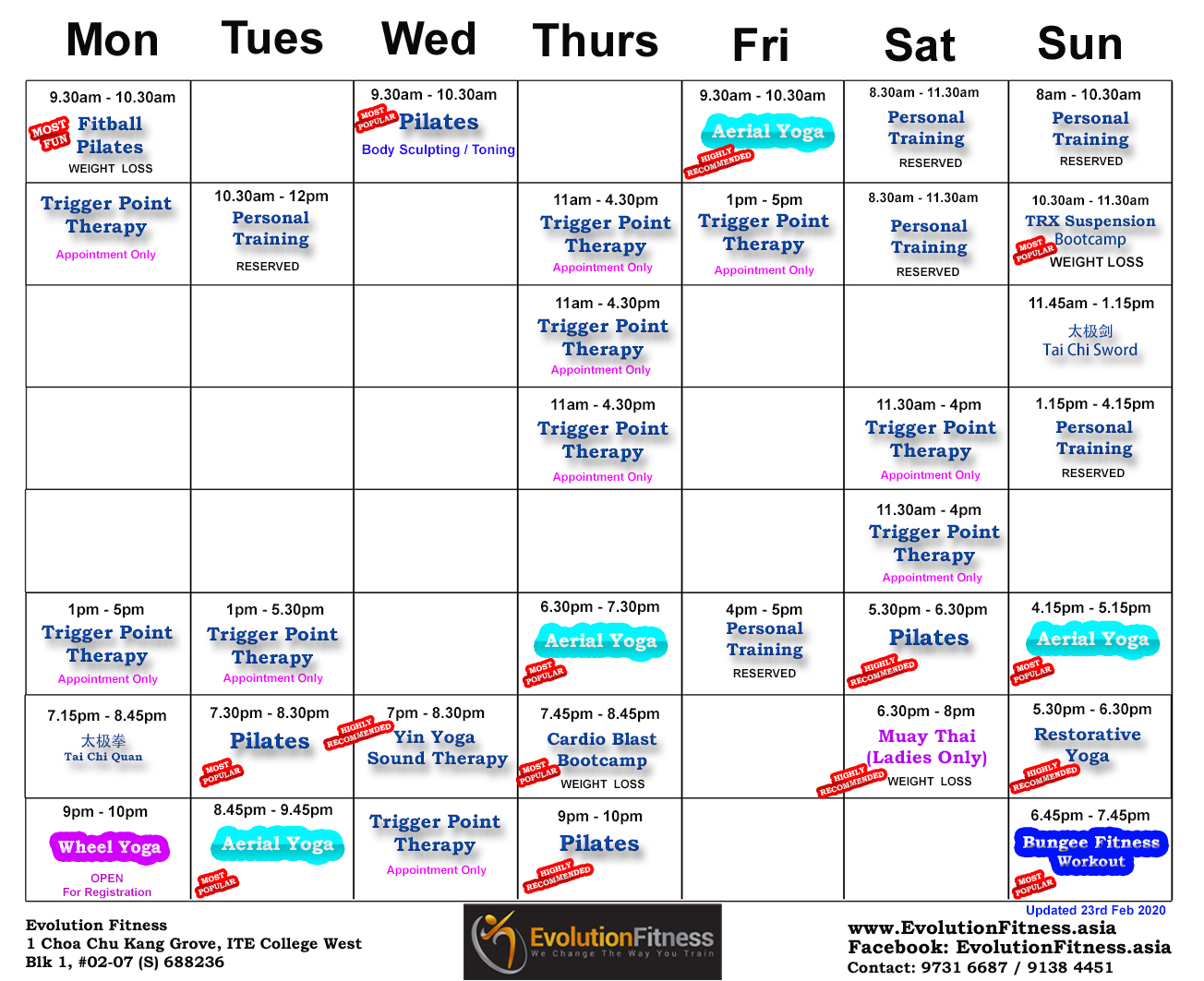 Full Group Class Schedule
Promotion
Promotion
13. Can I attend other Group classes as well?
For those who wish to attend different group classes, you may do a walk in at $25 per session. For Aerial Yoga, it will be $40. Prior booking through SMS or phone is required.
You may also purchases our coupons, where 1 booklet consists of 10 coupons for $200, which is valid for 3 months from date of purchase.
Terms & Conditions:
*Coupon is not exchangeable for cash or otherwise, and not refundable if lost or damaged.
*Expired coupons are strictly not accepted or extended for usage.
*Coupon must be presented at time of attending class, otherwise normal ad-hoc charges applies.
*Not valid with any other discounts, promotions, vouchers or privileges.
*Coupon is only redeemable for all group classes that have already started.
*Minimum 2 hours Advance Booking is required & subject to availability.
*The management reserves its right to change, amend, add or delete any of the Terms and Conditions without prior notice.
14. If I book for Wednesday class, can I change to Monday class if I can't make it for some Sessions?
We do not allow participants to change the class which they have signed up for the 8 sessions. We would recommend you getting the coupons instead which is more flexible but at a slightly higher cost. 1 booklet consists of 10 coupons for $200, which is valid for 3 months from date of purchase.
15. In what language is class conducted?
Classes are conducted in both English and Mandarin.
16. I called on the mobile but no one answered the phone?
We always value all our customers and any enquires, but sometimes we may be having classes when you called that's why we missed your call. Do drop us an SMS with your name, day & time of course interested and we will get back to you ASAP.
You can also email to us: enquiry@evolutionfitness.asia
17. Where can I check the latest Group Class Schedule?
You may check our latest Group Class Schedule below and also like our Facebook for our latest updates. >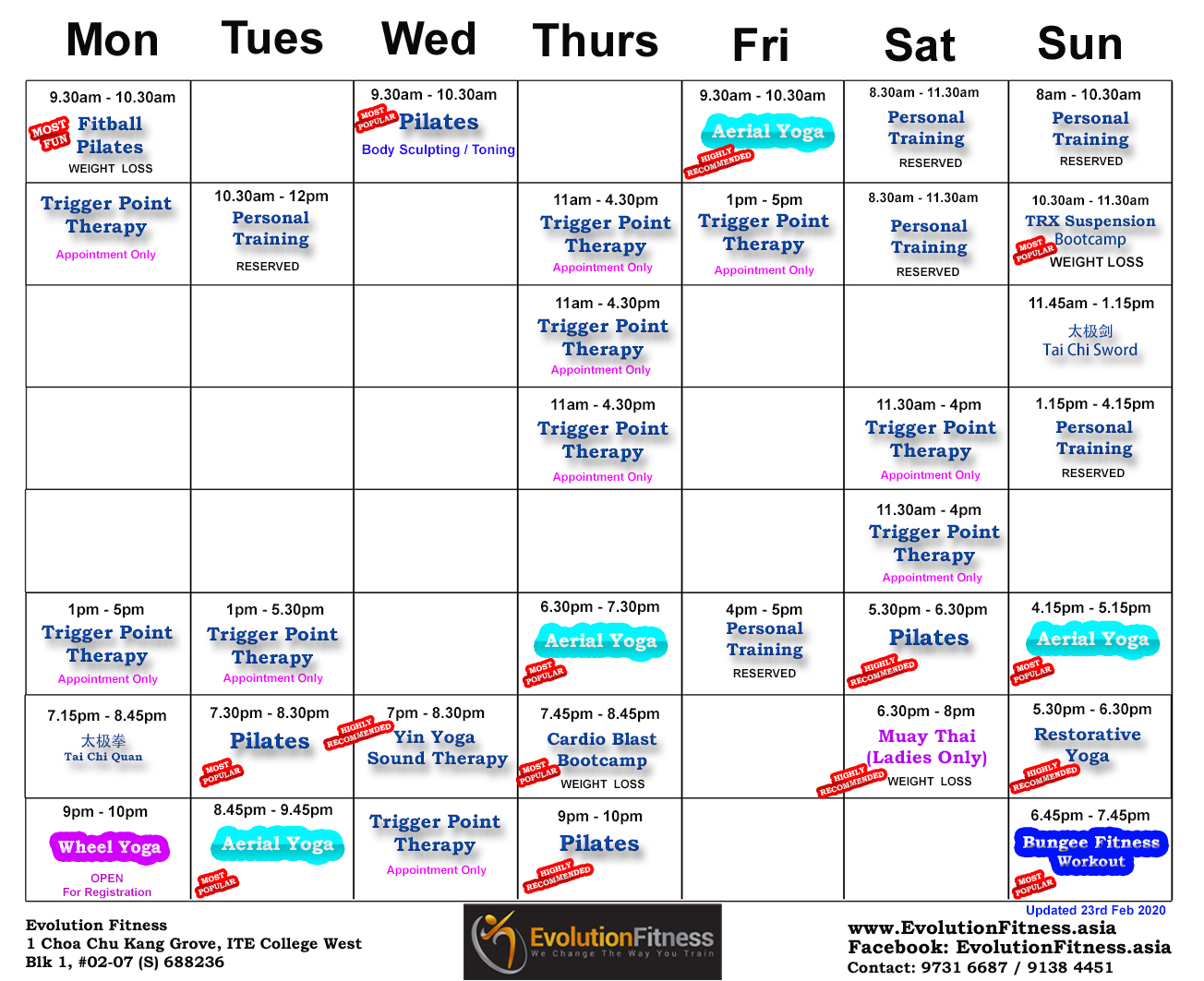 Full Group Class Schedule
19. Can't find what you are looking for?
Drop us an email with your enquiry and we will get back to you ASAP
Email: enquiry@evolutionfitness.asia
Contact: 9731 6687 / 9138 4451